Tools Menu
CamBam has a number of utility functions grouped in the Tools menu.
Save settings
Saves system configuration settings and any modified system libraries or post processors.

Save settings on exit
If this menu item is checked, configuration and other system changes will be saved automatically when CamBam is closed.

Browse system folder
Opens the folder containing CamBam system files (libraries, post processors, samples, scripts etc).
The location of this folder can be specified in the System Path configuration setting.

Options
Opens a window where system configuration settings can be maintained.

Check for new version
Determines whether there are any newer CamBam updates available from the CamBam website.

Clear messages
Clears messages from the information window below the drawing window.

Get object extremas
Shows the extrema points and dimensions of the selected drawing objects.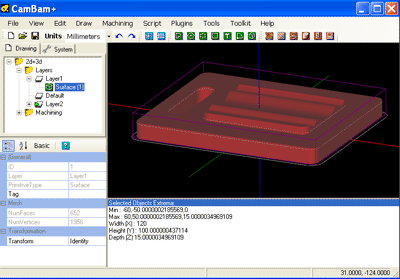 Min: minimum coordinates of the object in X, Y and Z are separated by a comma.
Example: X=-60, Y=-50.000…, Z=0
Max: maximum coordinates of the object in X, Y and Z are separated by a comma.
Example: X=60, Y=50.000…, Z=15.000…
Width, Height, Depth Maximum dimensions of the object in drawing units.
Measure

(

M

shortcut key) Allows you to draw a line to make a measurement between two points. The measurement result is displayed in a new window.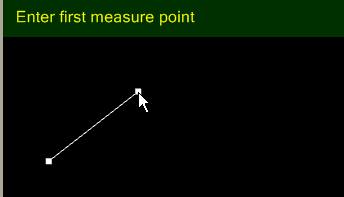 Reload post processors
Reloads all the post processor definitions from disk. This may be needed if a post processor has been modified from another instance of CamBam.

Simulate with CutViewer
Starts the third-party software CutViewer Mill, to provide a 3D machining simulation from the Gcode file produced. To avoid having to provide CutViewer parameters manually, you must use a post processor designed to work with this software. (E.g. Mach3-CV for milling, Mach3-Turn-CV for turning). You must also define a stock object in the machining or Part objects.